---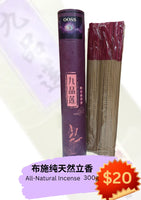 包含六种良药、五谷、五香、五味及108种天然珍贵素材聚集而成。
供香之功德:罪障消除,福报优厚,来世尊贵,所求如愿,远离恶趣、渐获解脱
欢迎您每月赞助佛堂,道观及祠堂的天然香。欢喜供养!
It contains six types of medicine, five grains, five aromas, five flavours and 108 kinds of precious natural materials.
The merits of offering incense are: elimination of karmic debts, good fortune, dignity in the next life, wish fulfillment, free from evil and gradual liberation

We welcome monthly incense sponsorship for Buddhist shrine, Taoist shrine and ancestral hall by clicking on the monthly subscription. Rejoice in making offering.