---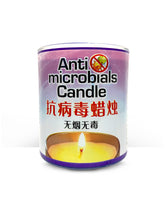 张卜生教授大力推荐使用:抗病毒蜡烛
乃是按照秘密配方研发的高效杀毒产品。燃烧时间高达60小时。可以有效杀死和祛除各种传染性病毒!同时可以快速提高人体免疫力,是居家和办公,乃至公共场所最好的保护神。神灯一盏,百毒不侵,百病不生!为了自己和家人的健康,点起神灯吧!

Antimicrobial Candle: Highly recommended by Master Zhang Bu Sheng

This product is based on a secret formula, lasting 60 hours. It can effectively kill and remove all kinds of infectious microbes. This candle can also boost one's immune system. It's the perfect protective guardian at home, in the office, and even public places. When lighted, a hundred toxins can't invade us, a hundred diseases can't be borne! For the sake of yourself and your family, do light up this magical candle!